Like many of you, I spent the morning watching and tweeting about the Surface Pro 3 announce at the Surface Event in NYC. Many people were expecting a Surface mini to be released, but in hindsight, Surface Pro 3 makes much more sense from a customer standpoint and sales standpoint. With the lukewarm acceptance of Surface RT, a 8″ tablet running RT is not going to set the world on fire vs. this device announced today.

You be able to read numerous articles about the new Surface Pro 3, and I'm not going to bore you with all of the details. Especially since I'm not hands-on with the device. I can only go on what's been announced and put in the wild. Here's what I know from a hardware perspective:
Comes in 3 processor flavors (i3, i5, i7) w/ up to 8GB of RAM and 512GB drive

Price point starts at $799 and goes to $1999

Weighs in at 1.76lbs without keyboard, pen, etc and super thin at .36 inches

12-inch ClearType Full HD display will be awesome to view content as well as creation

Pen is wicked cool with push-button to open OneNote when device is office and new styling

Type cover is articulated to provided much improved laptop experience

Hinge allows for multiple angles for a multitude of uses

The new integrations with OneNote are fantastic. I can't wait to begin putting them into action.

See the full specs here (Word doc so be advised…Not a webpage)
Check out the Surface Teams blog for a great write up on the announcement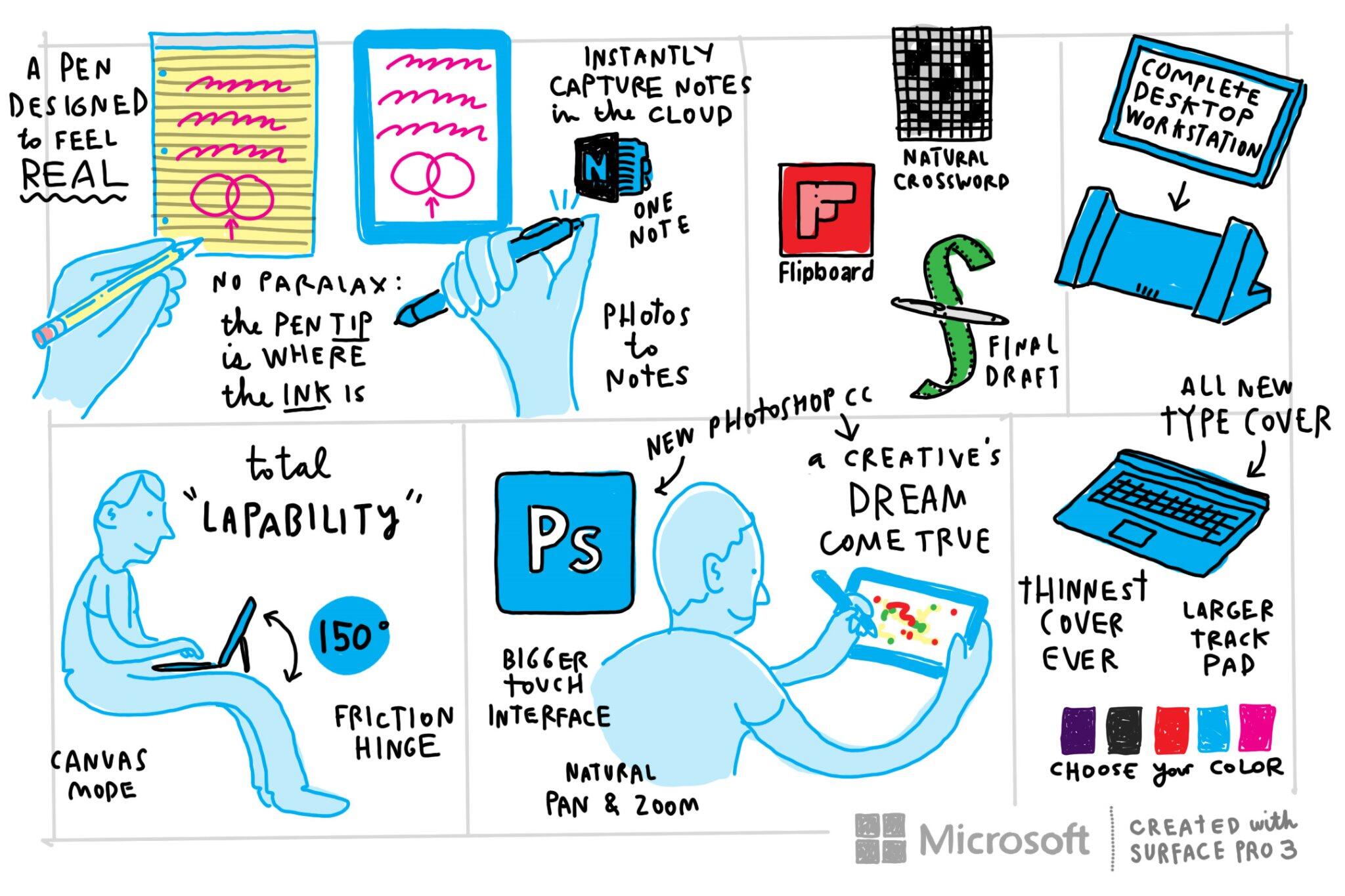 From my standpoint as a trainer, presenter, author, and technologist, this is the device I have been looking for since Surface was released. It will allow me to have one device for consumption, creation, and presentation of content. I was looking at purchasing a Dell XPS 19 to use as an electronic white board replacement. The idea was to place the device on a lectern for presentations. This will allow me to fully interact and present without switching devices, or using a white board. This is particularly helpful in the classroom where I spend a lot of time diagramming. Now, I envision students viewing and having access to my whiteboard diagrams in real time. Plus, I now have a historical record of these diagrams. No more smartphone pics of the whiteboard here!

I am already putting the request in to my employer to forgo a new laptop and get me a Surface Pro 3. It will actually save them money since many of the other instructors choose MBPs.
To that end…TAKE MY MONEY!!!!
Devices go on sale tomorrow Jun 20th at 12:01AM EST.

F5, F5, F5…

Mike